Top 5 Cherry Blossom Spots Around Japan - Japanspecialist
Top 5 Cherry Blossom Spots Around Japan
If you're making it to Japan in the spring, prepare to be moved.
The jewels of the islands bloom at the first warm breeze. The dark, twisted bark of sakura (cherry blossoms), still stripped and bare from the biting chill of wintertime, buds over stone riversides, railway lines, and lawns of new growth. The blooming bulbs stack thickset and patch together like bouquets. The dim bark contrasts against the packed flowers, and… behold! The sun shines over branches of what only appears to be dense snow with a pinkish hue that makes for a breathtaking visual contradiction.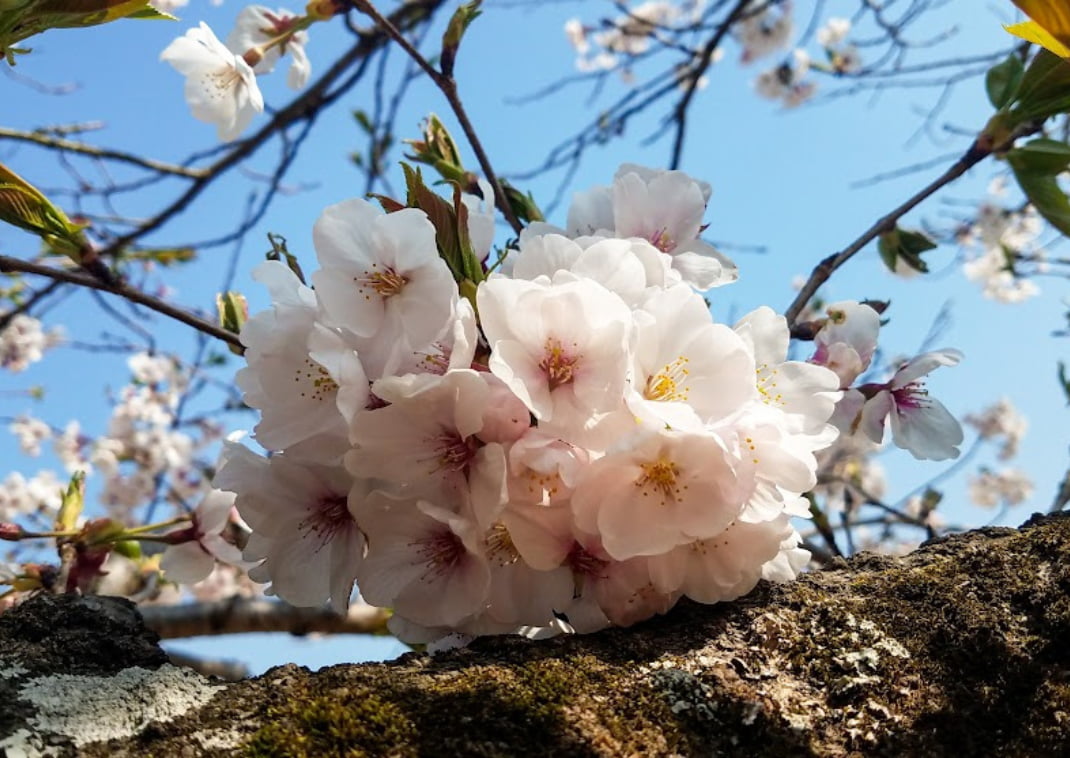 It's the stuff of ancient poetry intensified by backgrounds of castle battlegrounds and, in present-time, school children rushing through back streets to get to their first class of the new school year. They're living sculptures telling tales of new and old through wind-swept pedals, and they're worth every fleeting second.
Want to know where to get the best view of these annual bloomers? Let's get right to some of the most ideal options.
1. Shinjuku Gyoen National Garden, Tokyo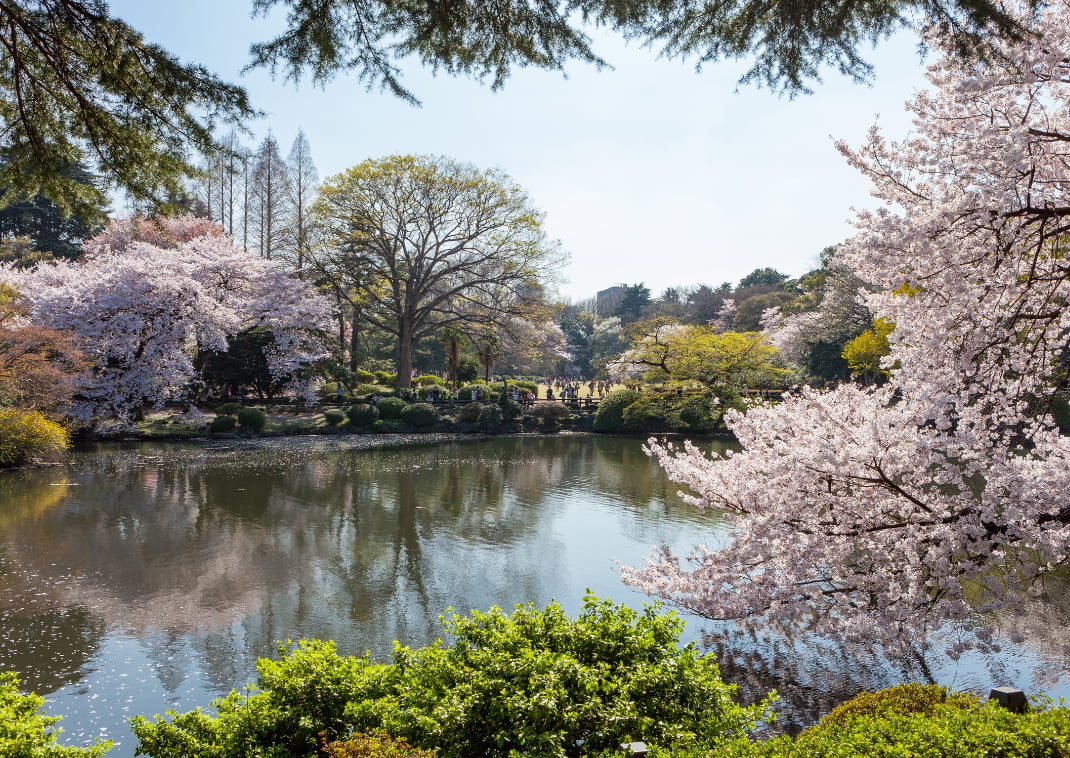 One of the most popular hanami (flower viewing) spots in the country, it's such due to its central proximity in the nation's capital. Just east of Shinjuku Station, Shinjuku Gyoen fills up each Spring with locals and tourists alike all hoping to find the perfect spot to picnic under a blossoming beauty.
The garden grounds are abundant and wide – a rare natural area in one of the densest cities on the planet. The garden houses large lawns full of various sakura species of varying colors. During a stroll, one might discover small forested areas of low sakura canopies and duck filled ponds – some of which accompany charming bridges full of couples taking selfies.
Anywhere between the entrances and the central Starbucks, people of all ages and celebrity status can be found here during full-bloom days. Be sure to visit the gates prior to your intended time to peruse the grounds as lines can get lengthy and methods of applying for a spot in line can vary. Still, in Tokyo, this is a highly sought-after spot for good reason.
2. Yamanakadani Station, Osaka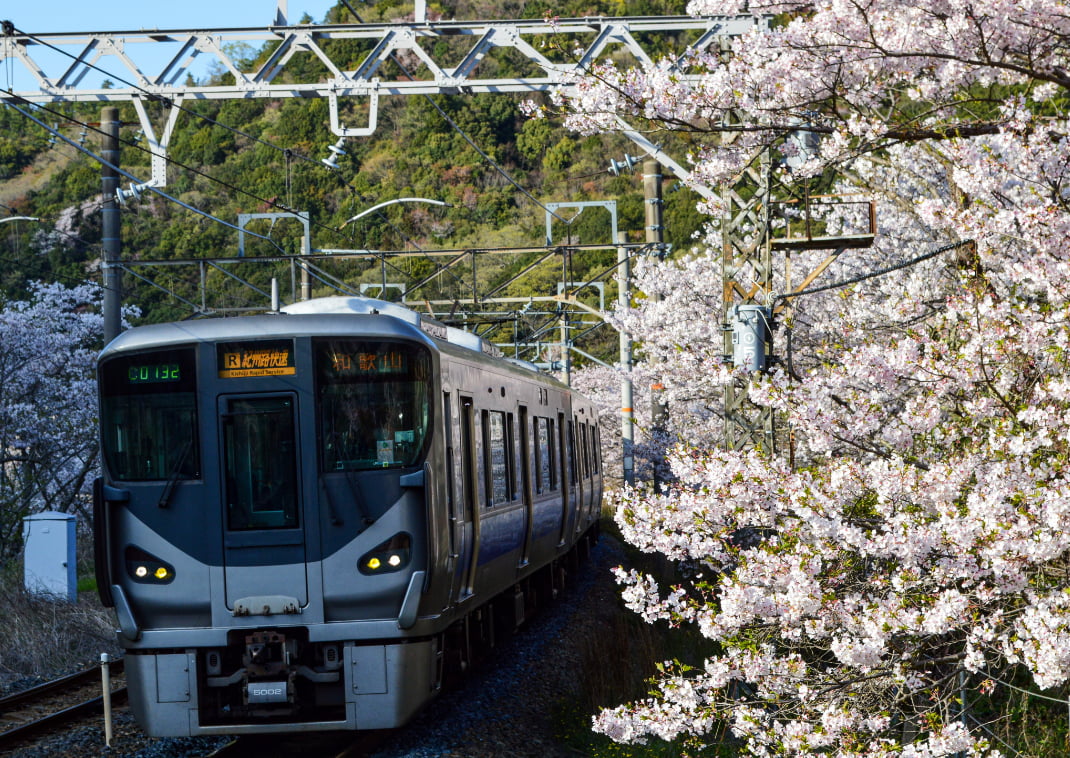 Only a skip and hop onto the Osaka Loop Line via Osaka Station, Yamanakadani Station is the last stop on the Hanwa Line (which it automatically becomes without having to transfer) before crossing over into Wakayama prefecture. Jump off at Yamanakadani, and, just like that, you've arrived!
The platform itself is what we're after here. Chronically filled with train enthusiast photographers, the station is surrounded by thick bloomers at peak bloom times – all exploding in pink in sync. The mix of blooming flowers meeting oncoming trains with a background of green hills makes for a fine stop on this sakura tour. Chill at the platform benches, see it from the platform bridge, or relax at the park a small walk east of the station, and try out the massive dinosaur slide.
Keep in mind, this is small town Japan – "real Japan," as some might refer to it. However, it is just a stone's throw from the next stop on the list. In fact, it's on the way.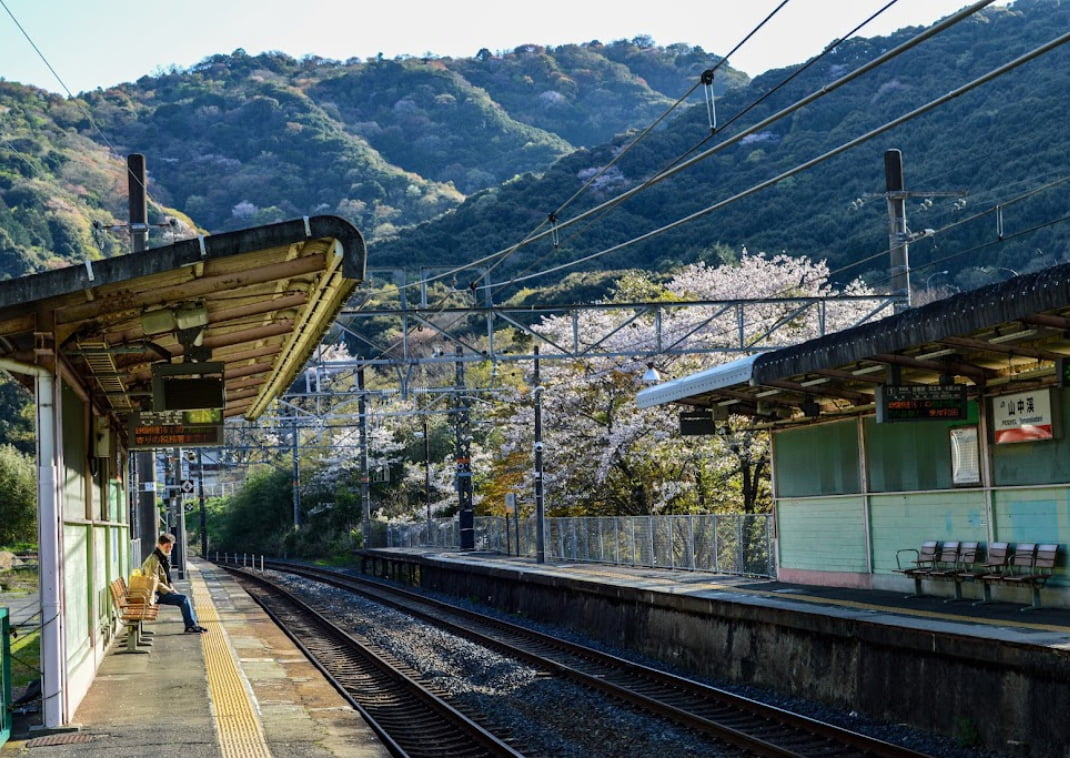 3. Wakayama Castle, Wakayama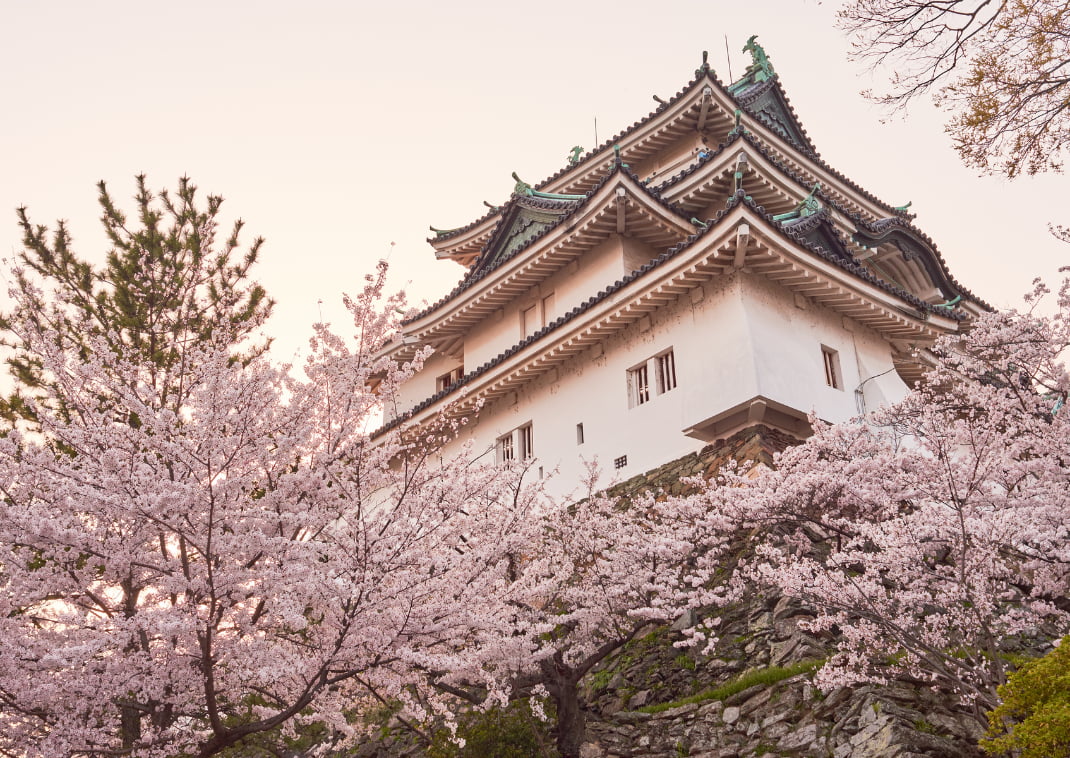 All hanami visits need a traditional scene, and Wakayama Castle is just the fortress to find it.
Both walkable and bus-able from Wakayama Station in Wakayama City, just south of Osaka, the castle grounds hold local spring food festivals during their large collection of sakura bloomers favorite few weeks. It's gorgeous from the start of the grounds all the way to the castle. Large, thick trees shade young couples sharing chocolate bananas while gazing up at the massive structure.
The castle itself is also worth a tour of and comes with a grand view of the city from the top. You may find yourself victim to a few ninja actors on your way in. Wakayama City being a relatively small city, the grounds are still enjoyable even when they're crowded.
We recommend staying all afternoon long and soaking up the vibe.
4. Hiroshima Peace Park, Hiroshima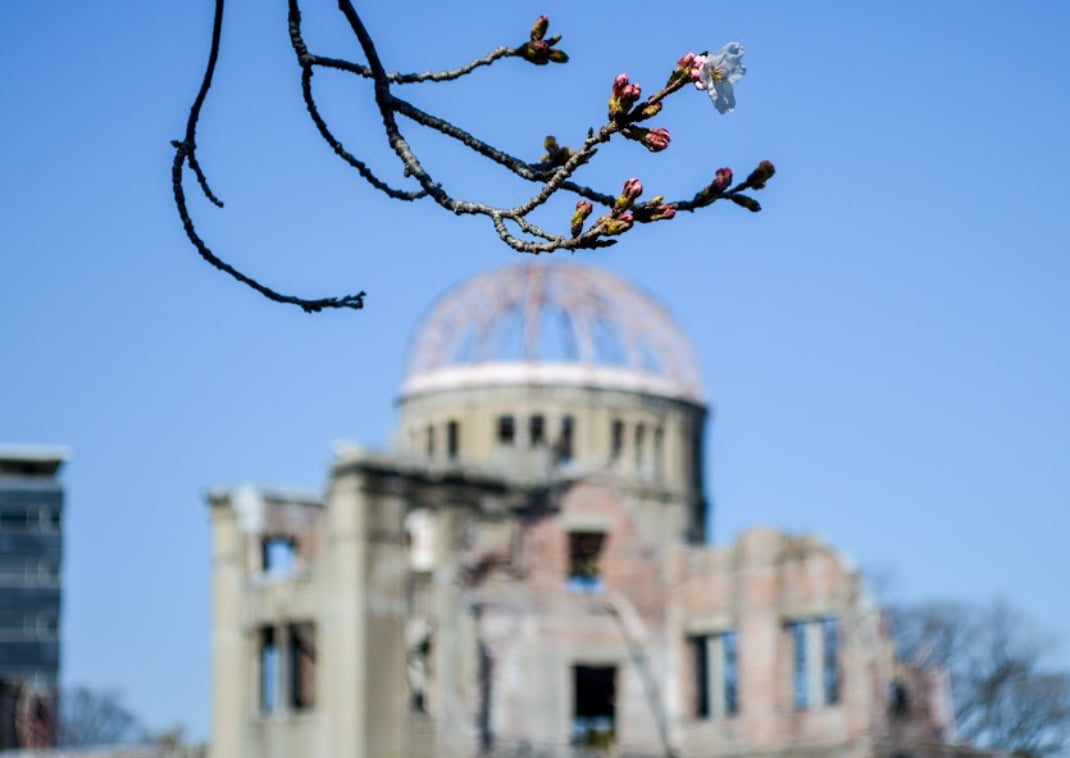 Located in west Japan, this city needs no introduction. A great beacon of resilience, Hiroshima City's Peace Park, or prior to WWII shopping district turned atomic bomb memorial and world peace advocacy garden, tells stories of the city's past and mixes in a grand deal of future optimism – both from the design of the park and charm of its visitors. Each spring, locals visit the park to relax under the riverside sakura trees which are particularly stunning.
The entirety of the central island's park riverside is bordered with sakura trees – all of which bloom with an incomparable thickness. These trees burst with blossoms and are always full of visitors on blankets snacking and drinking. It's best to arrive early and claim a spot. All the same, every inch of this World Heritage park, from the Hiroshima Peace Memorial Museum to the Genbaku Dome, is worth visiting any time of year.
Take it all in here, but be sure to leave with lovely memories like the park advocates.
Bonus: Senzokuike Park, Tokyo
Just one more for those honing in the capital city. Senzokuike Park, located just outside Senzokuike Station on the Ikegami Line, is a fine alternative to those looking to relax somewhere less congested. Located in the southern Ota ward, the park encompasses a small lake regularly filled with couples in rentable swan boats and canoes.
The northern side of the park has lots of small, low-canopy sakura forests and lake side decks perfect for a picnic. Cross on over to the lake's island, a replica of Hiroshima's Itsukushima, before you go.
It's a well-meaning getaway to those looking for a break from the city center.
5. Kintai Bridge, Yamaguchi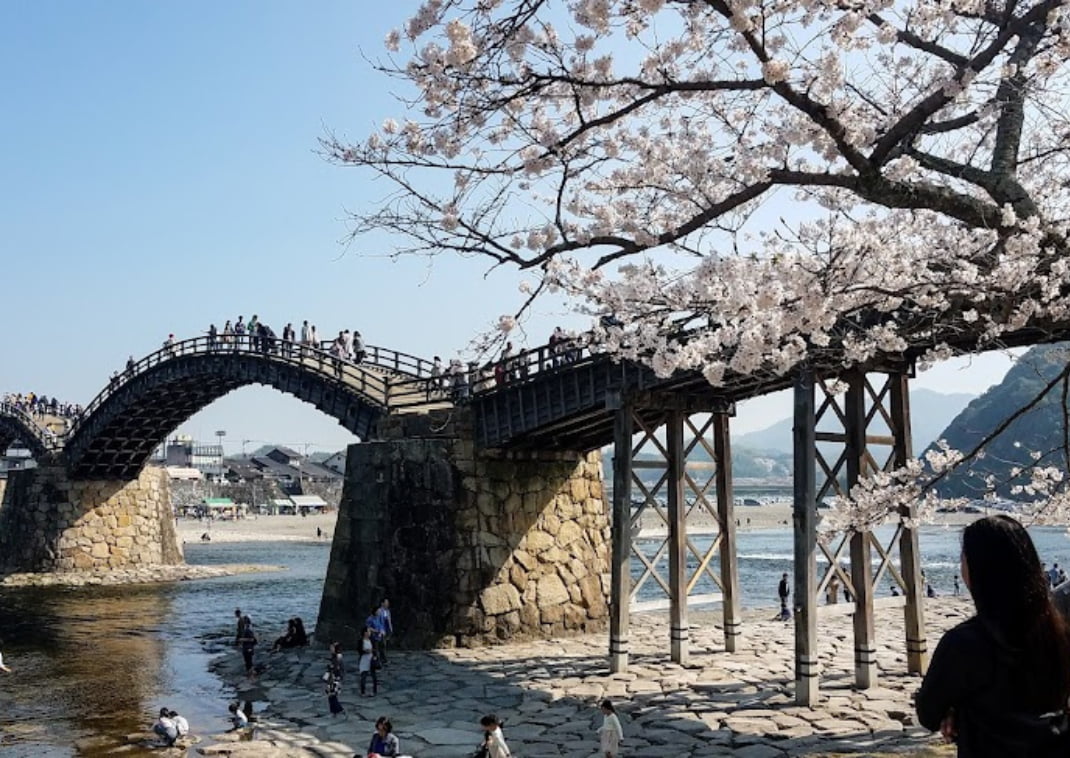 Conveniently a twenty-minute shinkasen (bullet train) ride from Hiroshima Station (although also an easy local JR ride), Iwakuni is a small town made special by its traditional attractions and natural beauty.
One of the most eastern cities of Yamaguchi prefecture, the Nishiki River has carved out a gorgeous landscape that has been well ornamented by the locals of past and present. A shuttle bus from the station takes you to an attraction jaw-dropping all year round, but spring time turns this area into a sea of pink. Kintai Bridge is a wooden, arched foot bridge of five arches – stunning at all angles. It leads to Kikko Park – a garden park surrounded by trekkable mountains with ropeway access to a mountaintop castle. Are we getting your attention here?
It's an absolute dreamscape. The trees are plentiful, and the branches bloom thick. All the more, the shallow river (popular for traditional nighttime, firelit cormorant fishing) is decorated with pole-pulled boats. The inner-park garden is a wonder in itself full of prime chill spots that lead to a large, flower-filled open green space commonly occupied by sprinting toddlers.
Take the ropeway (or hike up if you're ambitious) to the Iwakuni Castle grounds for a tour of the tiny castle that comes with a not-so-tiny view of nearly the entire city. It's a particularly fantastic site.
Be sure to visit the shirohebi (white snake) museum on the way out on for some local history and a view at some snakes (unless you have a phobia). Honestly, there's so much to see and do here with plenty of food vendors and cafes to keep you nourished. It's definitely an all-day stop and a prime site on this sakura tour.
Ready to Go?!
Book it with us! We have a wide variety of tour options which you can browse here.
Also, you may consider adding a UNESCO stop to your trip to Wakayama with our Mt. Koya World Heritage Tour.
Want to see more of World Heritage king, Hiroshima? Check out our tour option Hiroshima and Miyajima in a Day.
Plan your trip with us
Get in touch with one of our travel consultants, they are ready to help you create the trip you always dreamed of.
Online Consultation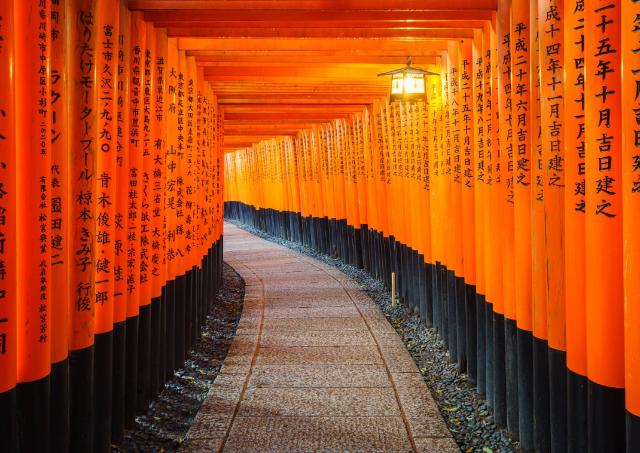 We use cookies on this site to enhance your user experience. By continuing to use this website, you consent to the use of cookies in accordance with our
Cookie Policy.