Overview
Samurai Japan - a 500-year journey into Japan's feudal history.
This tour will bring you back to the age of medieval Japan, a time that's inspired countless novels and action movies. The ideal period to make this trip will be spring when the iconic cherry blossoms are in full bloom (end of March – beginning of April).

Later, you'll discover hypermodern Tokyo, enjoy a breathtaking walk on the Nakasendo Trail in the Kiso valley, explore the old merchant town of Takayama, the atmospheric geisha quarter of Gion in Kyoto. Later, it's off to the iconic Itsukushima Shrine on Miyajima, with its landmark red gate in the sea.

This 16-day tour is the perfect Japan holiday for nature lovers with a special interest in Japanese history and culture.
Accommodation
The following types of accommodation are recommended for this tour
Japan has quite a number of different types of accommodation, from Western hotels to traditional Japanese inns.
Please note, all our tours are tailor-made so we can arrange whatever accommodation required to meet your specific needs.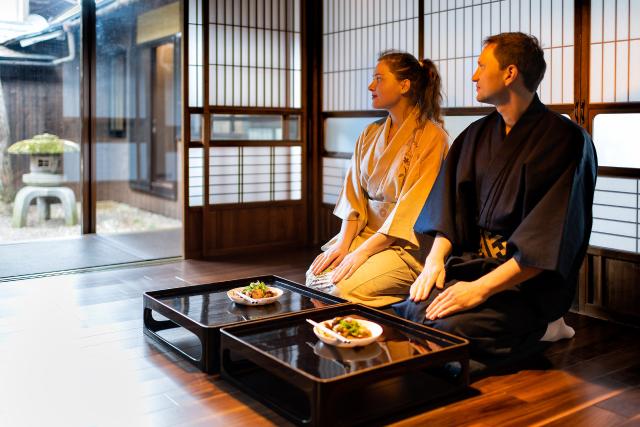 + 5 Photos
A ryokan is a traditional Japanese inn that offers a unique cultural experience. Guests sleep on tatami mats, enjoy traditional meals and may have hot springs & gardens.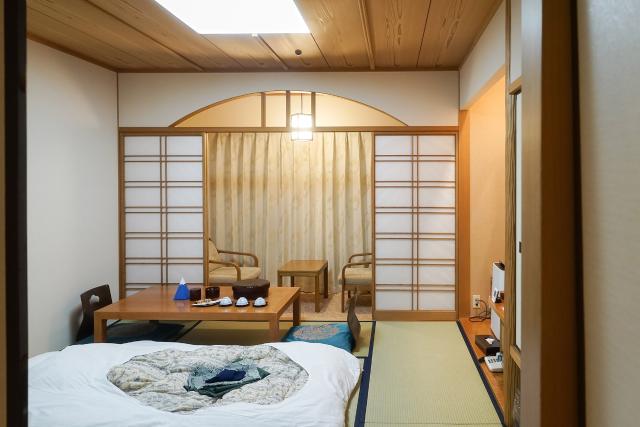 + 2 Photos
Minshukus are traditional Japanese guesthouses, where guests can experience a homestay, enjoy home-cooked meals and immerse in the Japanese culture.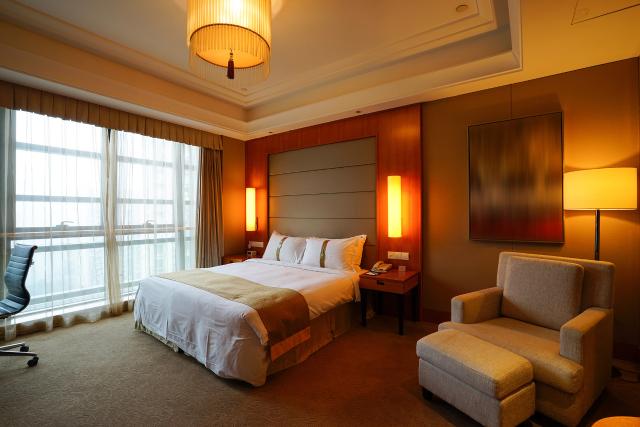 + 5 Photos
Western-style hotels in Japan offer comfort and convenience with amenities like room service and fitness centers. Many are located in major cities and near popular destinations.
What is included
What is included
International return flight tickets
Checked luggage
Airport transfers
9 nights in western style accommodations
3 nights in Japanese-style Ryokan with onsen
2 nights in Japanese-style minshuku
Breakfast and dinner (selected locations)
Transport tickets between destinations
What is not included
Local transport (buses, metro, taxis)
Local city tax which needs to be paid on the spot
Optional excursions and sightseeing tours
Travel insurance
Please note, this is just an example of a tailor-made tour. The services described as included and not included will differ based on your requirements. At Japanspecialist we are happy to accommodate all your requests when creating your personalised tour.
For more details please see our Terms and Conditions.
Arrange your consultation with an expert
Our experienced travel consultants are ready to customise this itinerary and arrange your dream holiday today. You can either schedule an online meeting with one of our consultants or fill out an enquiry form and we will get back to you with a personalised tailor-made offer.
The price of this service starts at EUR 50,- and is fully reimbursable if you book your tour with us.
What is covered during the consultation?

Experience Japan your way with our experts
We are part of JTB, the largest travel company in Japan and one of the biggest in the world, with over 100 years of experience. We are passionate about this wonderful country, having spent decades designing adventurous itineraries for our clients.
Your tailor-made holiday in four simple steps
Schedule an online call or fill out an enquiry form
Finalise your requirements and preferences
Receive your custom itinerary and quote
Complete your booking and enjoy your trip
The price of this service starts at EUR 50,- and is fully reimbursable if you book your tour with us.
We use cookies on this site to enhance your user experience. By continuing to use this website, you consent to the use of cookies in accordance with our
Cookie Policy.