Hakone: A Mountainous Hot Spring Paradise Near Tokyo - Japanspecialist
Hakone: A Mountainous Hot Spring Paradise Near Tokyo
The allure of Tokyo as a central hub is conveniently obvious. Its amenities are plentiful and commonly surrounded by a neon wilderness of historical and contemporary cultural delights. Once the big city dust settles, where do you go to get an equal level of natural immersion? Where's the geothermic alpine island wonderland you were also promised?
Hakone is the local metropolitan people's number one spot for just that – a way out of the concrete jungle and into lush natural beauty. Bath in rich sulfuric hot springs, glide through the hilltops in the ropeway system, and ride a three-story pirate ship through an ancient volcano's crater lake all with an ideal view of iconic Mt. Fuji. It's equal parts adventure and leisure. Better still, there's a relaxing and affordable express train to the area from central Tokyo. What's not to love?
Willing to hop off a stop earlier in Odawara to climb up a castle? Sounds like you get it all in one trip, doesn't it?
Well, you do!
Let's Get Right to It Then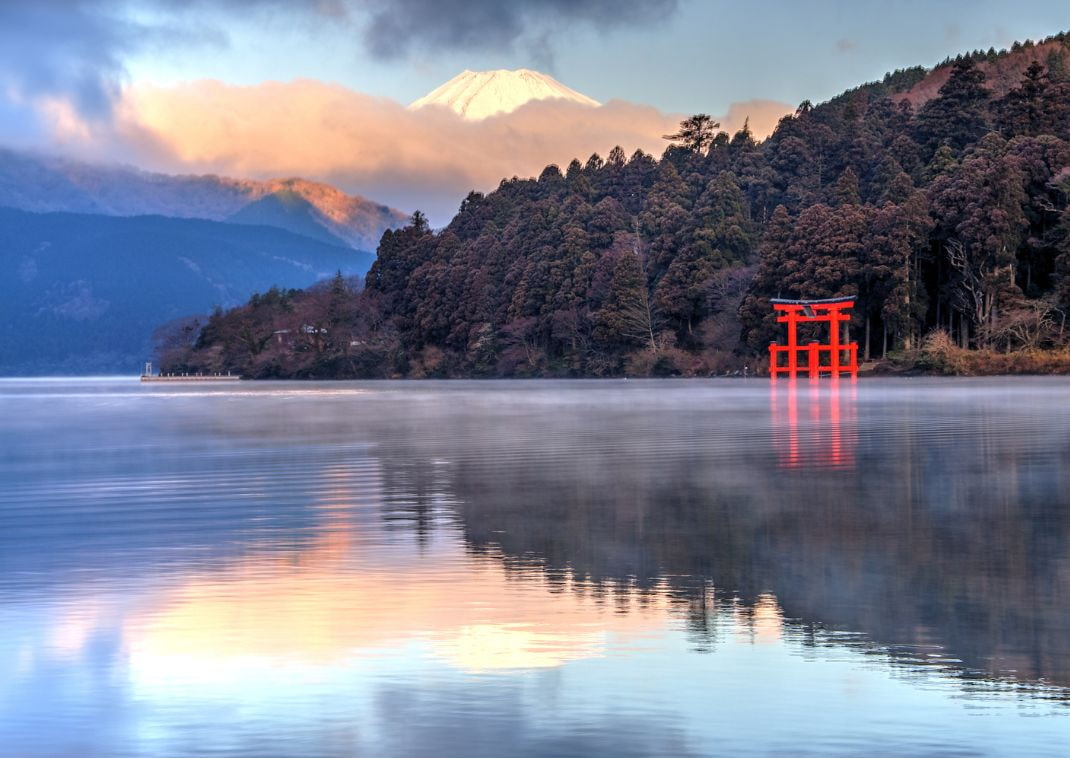 What's Hakone?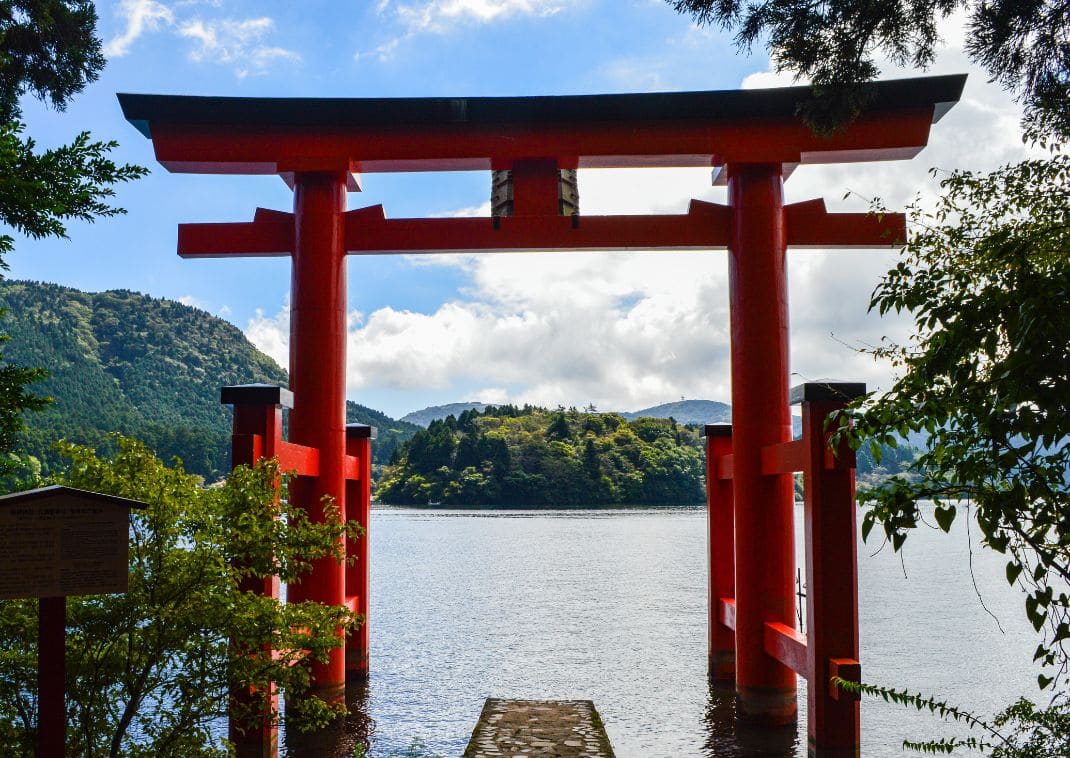 Just to the south-east of Mt. Fuji in Kanagawa prefecture, Hakone is, essentially, a mountain caldera national park as part of the Fuji-Hakone-Izu National Park system. Although dormant, the ancient volcano valleys still emit sulfuric steam as evidence of what still runs beneath – allowing the booming onsen (hot spring) resort area to exist. A Hakone experience is that of one cruising through a wound of a volcanic explosion thousands of years old. Turns out that's a rather relaxing place to be.
The area is focused around its central Lake Ashi. It's a freshwater caldera lake that people peruse via the Queen Ashinoko, the Royal 2, and the Victory – pirate ship ferries that take passengers from one end of the lake to the other. The lake is reached for a ropeway system that takes passengers through mountain peaks – stopping along hiking areas and a mesmerizing steam vent valley known as Owakudani, which is famous for its kuro tamago (black eggs hard boiled in hot spring water).
The lake's historic Hakone Shrine attracts photographers of all skill levels to its renowned lake-side torii (shrine gate). Hakone's proximity to Mt. Fuji is the commonly understood cherry on top of why so many come to this grand getaway.
From Top to Bottom
Hakone is typically accessed by train or bus. Once in the vicinity, the focus often becomes the connected system of sight-seeing areas. Thankfully, this is all conveniently strung together a cable car that meets the ropeway starting from the end of the train line, small village hub, Gora. From here, the journey from the highest points to the lowest points begin.
Hakone Gora Park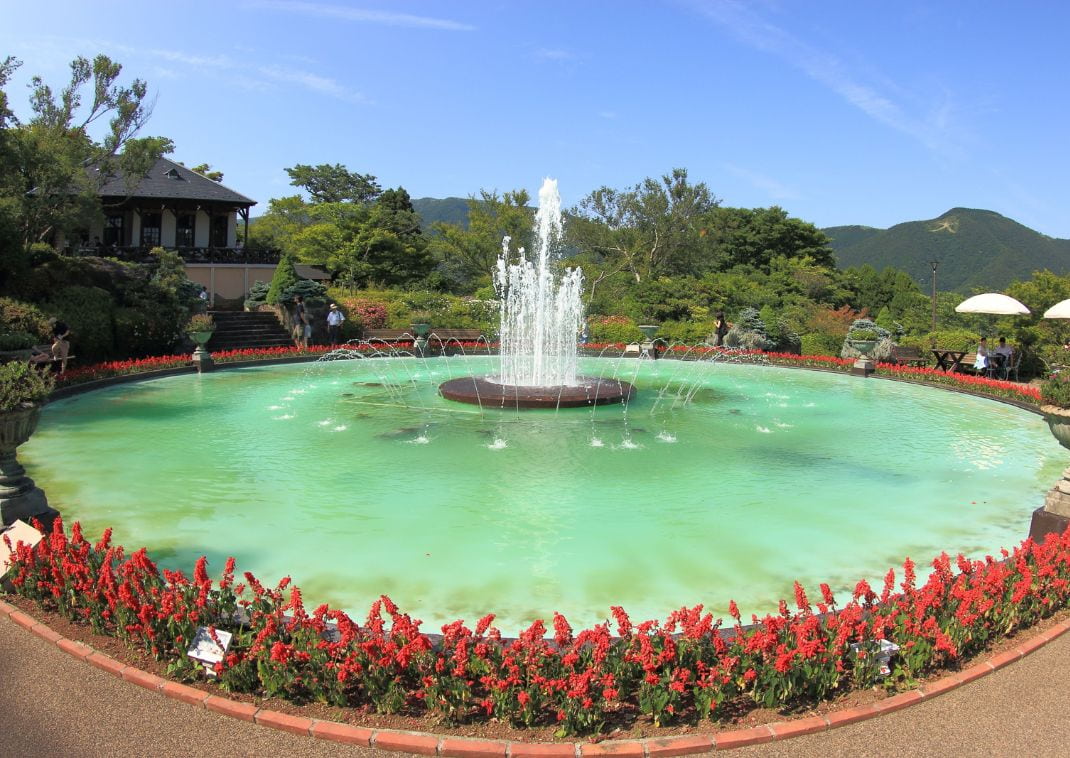 Gora is the last stop on the Hakonetozan Line (the train line of Hakone). Beyond this, there are only cable cars and ropeway lifts. As exciting as those both may sound, be sure to stop by Hakone Gora Park for an exceptional view of the surrounding mountains at a European style fountain and flower park.
Along with the relaxing atmosphere, you can also find a garden and tea house that hosts tea ceremonies. At the Hakone Craft House, ceramics and glassblowing are on regular display. Try the potter's wheel out yourself or design a glass bead bracelet to take home with you.
If you're only looking for a break from the adventure, grab a local Hakone Beer and relax with the open sky (something difficult to find in Tokyo).
This is a fantastic first or final stop.
Advice: The Hakone Free Pass
If you're staying for more than a day, the ¥5,000 free pass is an absolute steal. It allows unlimited access to all trains, cable cars, ropeways, buses, and pirate ships within Hakone as well as free entry to Hakone Gora Park. It also gives pass holders a significant discount for those wanting to ride first class on the lake ships. For multiple day adventures especially, these are must-haves and can be purchased at the Gora Station ticket counter.
Sounzan Station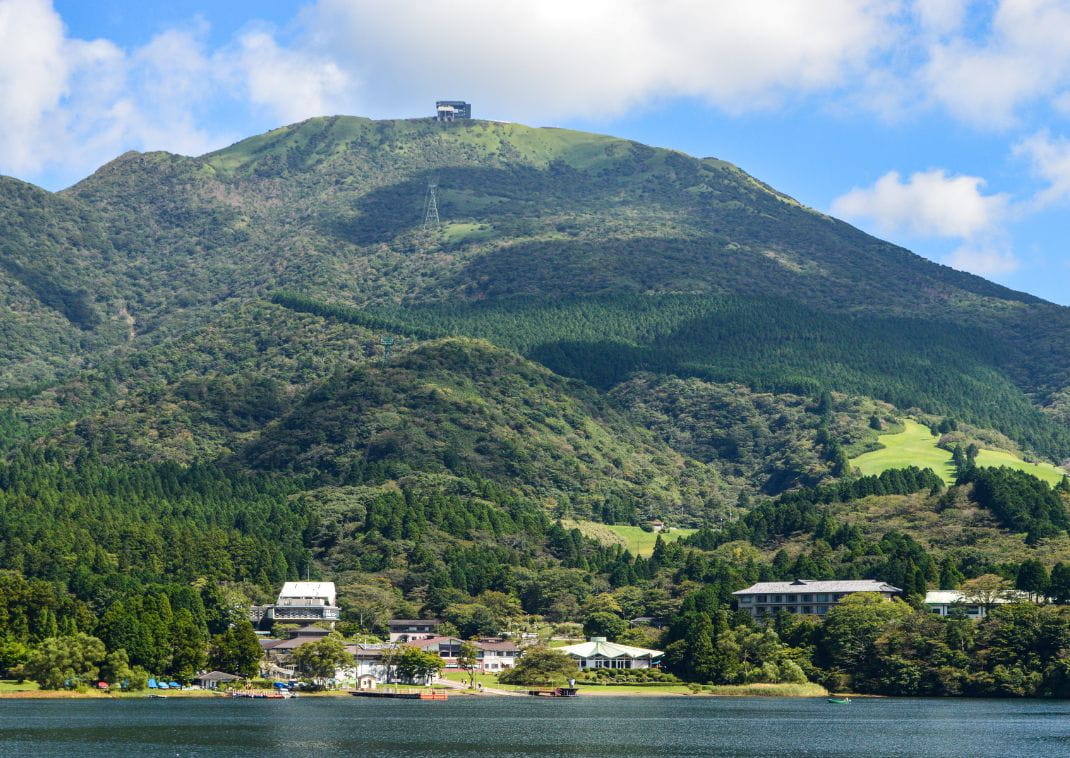 From Gora Station, getting into the action requires you to take a cable car up to Sounzan Station to grab your connection to the ropeway. From Sounzan Station, the view between lifts is breathtaking. From the outdoor viewing deck, the east mountains can be seen. On clear days, viewers can even see as far as Yokohama! Crazy!
From here, ropeway access is necessary to visit the other sites. Tourists test their fear of heights and are rewarded with unparalleled sights of magnificent nature. From post to post, soaring through the sky gives, without a doubt, the best view one can have of Hakone.
Owakudani
Just over the last hilltop, the rope lift window opens to a view of a towering Mt. Fuji on the right and a steaming Owakudani on the left below. It's a challenge to decide which to fixate on, but it's guaranteed to be unlike anything you've ever seen.
The station opens to a smoky, geothermic mountainside covering the area in a sulfuric fog. As the heat source of Hakone's springs, the area is most famous for its black boiled eggs which can be purchased, still hot, in bags of five. Visitors can also taste its counterpart, the black curry, in the station's second floor restaurant.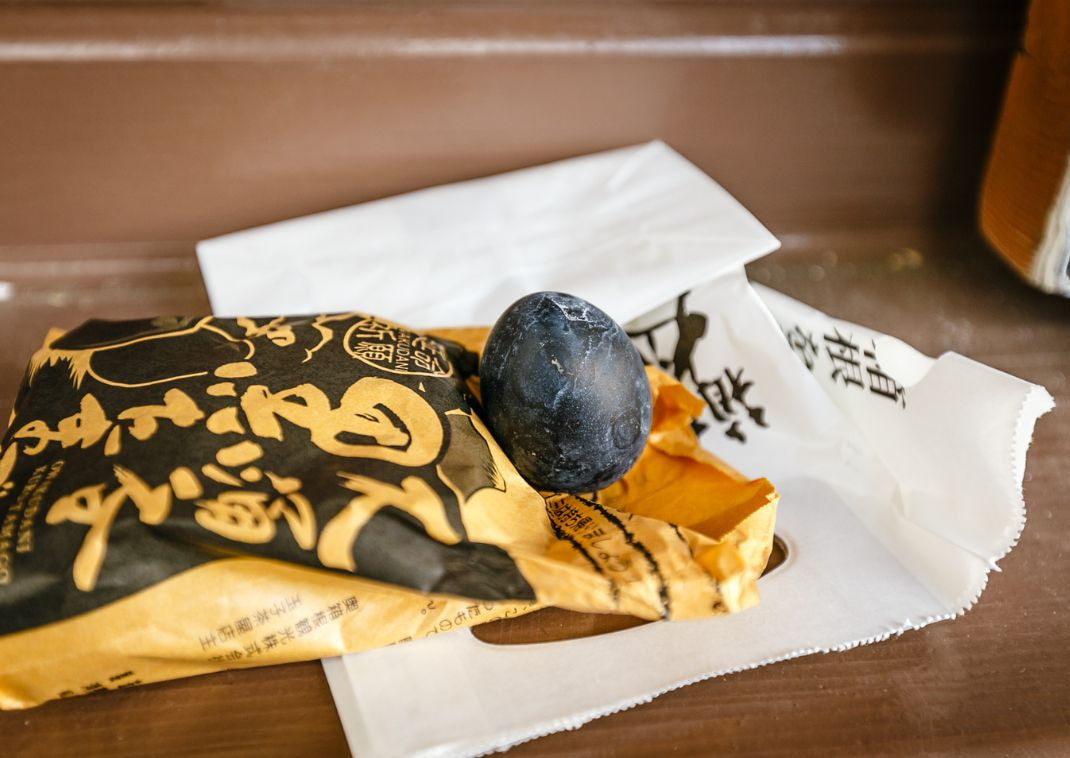 Another big reason to stop at Owakudani, however, is the view of Mt. Fuji. Without a doubt, Owakudani offers one of the best views of Fuji one can find. Don't leave the area without a glimpse.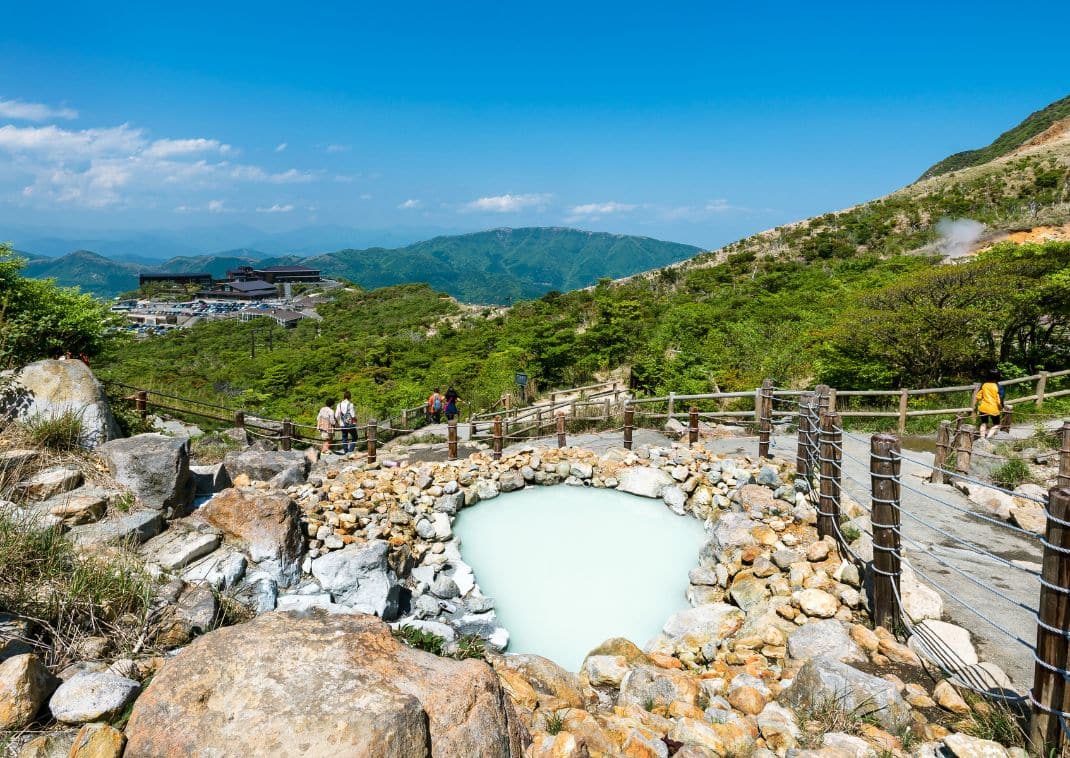 Lake Ashi
The final stop on the ropeway, Lake Ashi can be seen from the decent. Hakone's crater lake makes for a magical scene. Often full of cruisers, kayakers, and swan boats, the lake is most commonly perused via one of the afore mentioned pirate ships available just outside the station.
From on board, the boats cruise from one side of the lake to other giving passengers plenty of chances to see the surrounding mountains, the peak of Mt. Fuji, and the famous read torii of Hakone Shrine which sits on the east lakeside. Inside, general amenities can be purchased, and there's plenty of unreserved seating inside and out (the outdoor ship deck being the most exciting).
First class passengers can enjoy a less crowded area of indoor and outdoor seating at the front of the ship.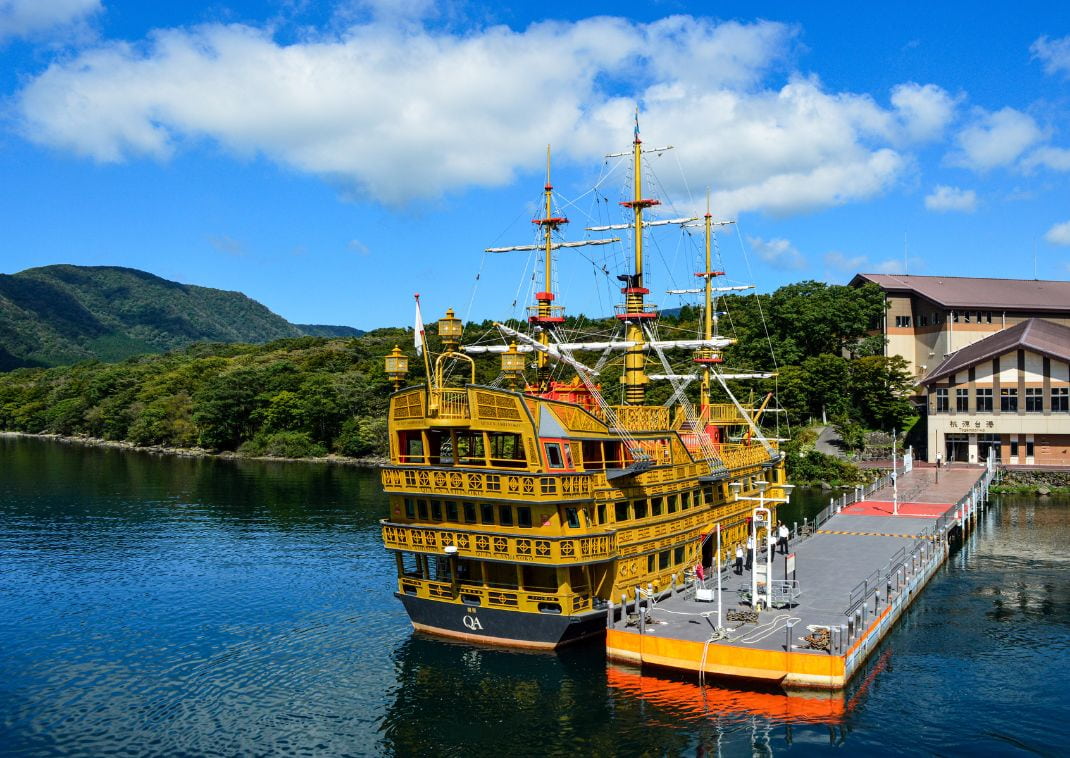 Hakone Shrine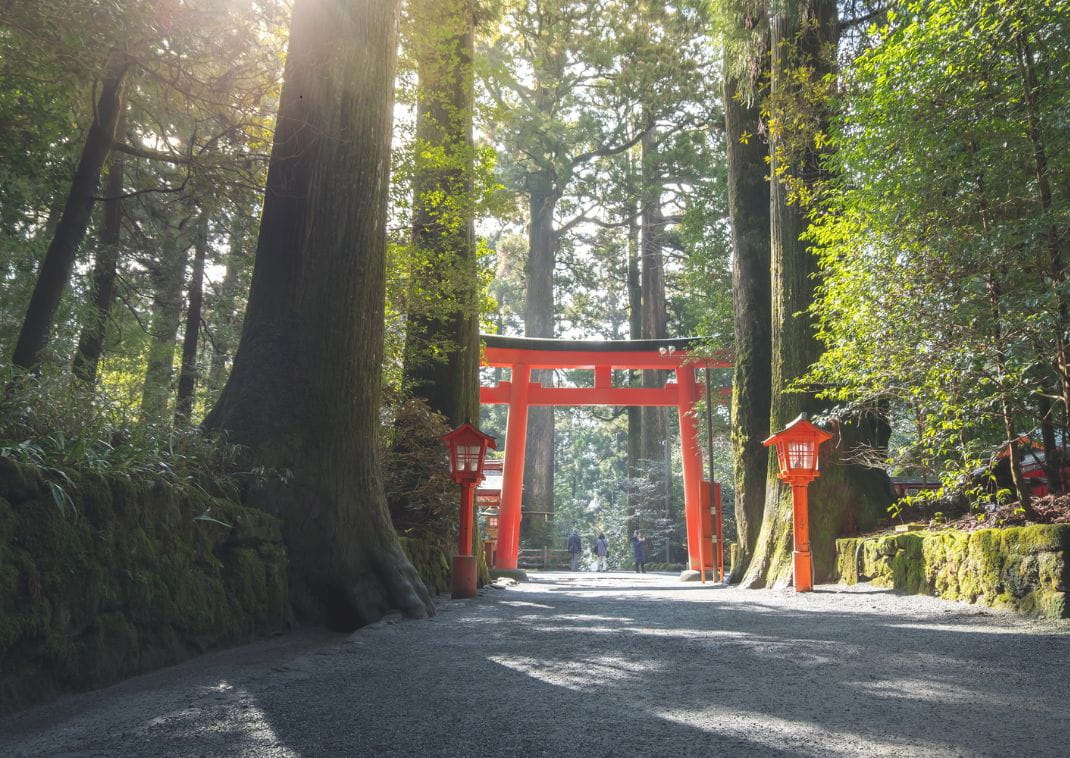 Taking about a half hour to reach one side of the lake or the other by ship, the east Hakone Shrine side, Motohakone, opens up into a shrine leadup full of cafes, restaurants, and lakeside buskers.
Walking up to the majestic, red, forested Hakone Shrine is like something out of a fairy tale in itself. What attracts most people, however, is the shrine's floating gate just outside the area's entrance. Often long queues lead up to the famous gate – all with people looking to capture a shot. That being said, it is a particularly attractive piece as it sits in the lake seemingly leading to its depths and bordering hills. It truly is a sight to behold.
Recommended Hot Spring Resorts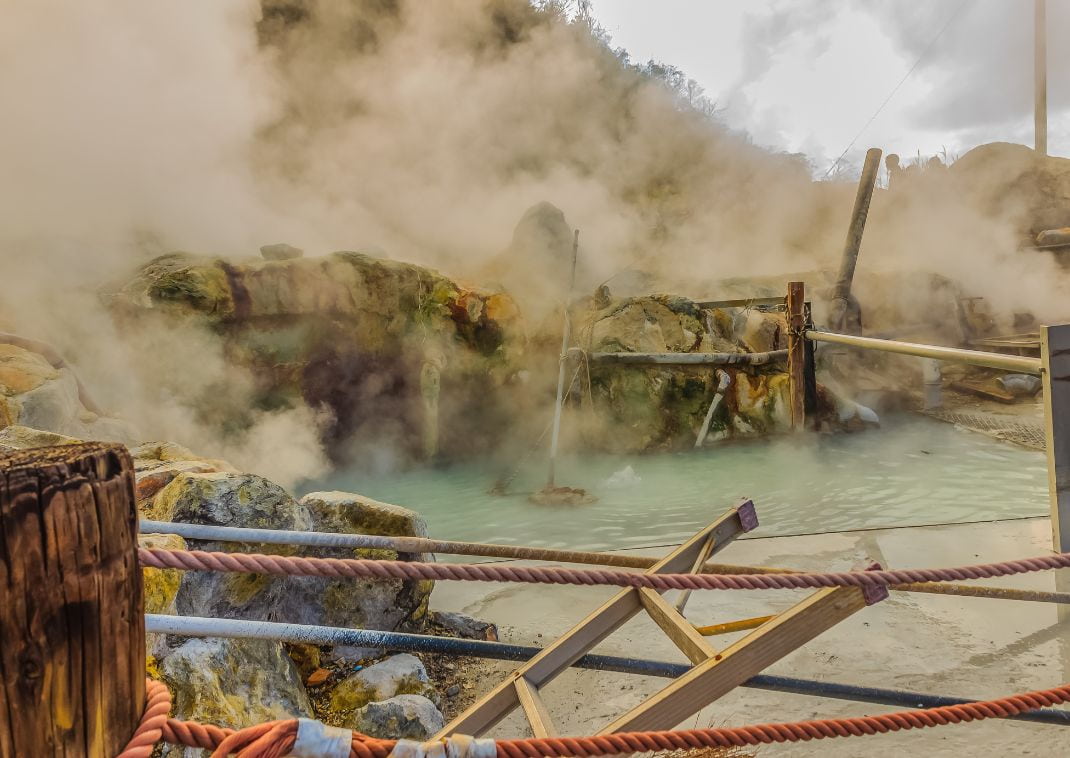 While dipping your feet into one of the many available footbaths may be enough for some, most overnighters may prefer the full experience.
For those booking on a budget or are looking for a single hotel with a wide range of room options, we recommend considering Emblem Flow Hakone. With everything from backpacker rooms to large private hotel rooms with a view, this place has a lot of options at a nice price. The hot spring baths offered are as natural as the breakfasts being offered (we recommend that too). It's also located just beside Gora Station for easy access to… everything!
For those wishing to bath in a spring with a view of the lake, Odakyu Hotel de Yama is just the place for it. Visible from the pirate ship cruises, this large resort caters to just about every need imaginable. This is a prime spot for those wanting multiple days with a lakeside Fuji view and to take advantage of all there is to do around Ashi. Get in touch with us to book one of the Hakone´s resorts.
Extra: A Castle Pit Stop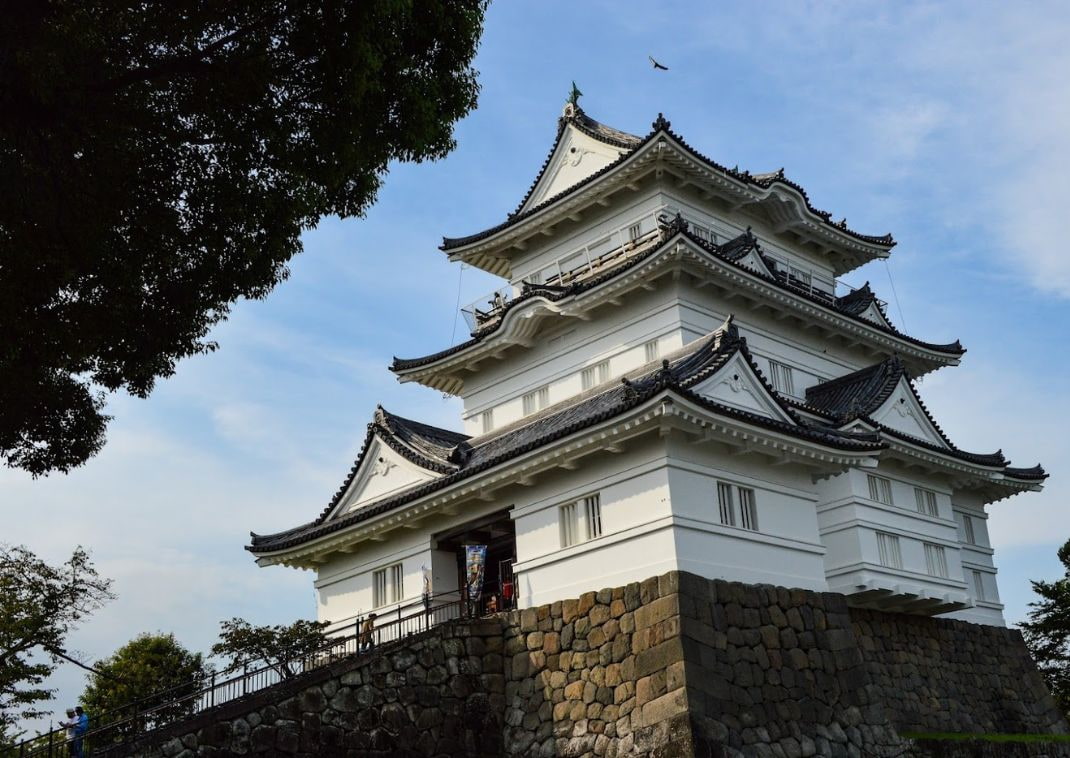 If you find yourself wishing for a little something more before returning to big city life, stop by Odawara City on your way back. As a convenient stop, Odawara is typically considered the gateway to Hakone. While there, it's ideal to take an hour or two to visit Tokyo's closest castle - Odawara Castle.
Clearly seen from Odawara Station, a souvenir street leads to the castle grounds often littered with seasonal festivities.
The castle keep is a gorgeous, white fortress. Inside, clan historical artifacts are on display. Visitors can also access the top and get a glimpse at not only Odawara City from above but also the Sagami Bay.
Stroll the grounds to visit its traditional gates and bridges. Of course, spring time cherry blossoms are a must, and, if for any reason you've missed them, be sure to visit the wisteria garden on the southside.
Getting There
As popular as Hakone is, getting to it couldn't be much easier.
While JR is an option, taking the shinkansen (bullet train) from Shinagawa to Odawara is always a pleasant ride. However, the special express service from Shinjuku to Hakone-Yumoto is one worth taking. The Romancecar is a special train of similar design to the bullet train. While it may not be as fast, it's equally as comfortable and for nearly half the price.
Locals mainly use the Romancecar for Hakone trips, so it's a good idea to take advantage of it if the ancient crater is where you plan to have a little getaway.
Ready to Go?!
Let us take you there for a single day trip via our Mt. Fuji and Hakone in a Day tour!
Wanting to see more of Kanagawa? Add an old Japanese capital to your tour list by visiting Kamakura!
Plan your trip with us
Get in touch with one of our travel consultants, they are ready to help you create the trip you always dreamed of.
Online Consultation
We use cookies on this site to enhance your user experience. By continuing to use this website, you consent to the use of cookies in accordance with our
Cookie Policy.