Touring Shikoku by Car: The Experience You Didn't Know You Needed - Japanspecialist
Touring Shikoku by Car: The Experience You Didn't Know You Needed
Travelling by train is the most popular way to get around Japan thanks to the fantastic JR Pass that allows you to ride as much as you want throughout all of Japan – but what about some freedom?
The freedom to wander as long as you want, change your plans last minute and enjoy every sightseeing location at your own pace. Renting a car in Japan is not as hard as it might seem and will unravel for you a ton of new experiences to try out. Even if Japan is considered a rail-connected country, some destinations are secluded and only accessible by road – we're not saying they are the best, but trust us they're definitely worth your time. Among these secluded or remote destinations, Shikoku is a must. Located just southwest of the main island Honshu, near Hiroshima and Kobe, Shikoku is well-known for its 88 temples pilgrimage, but the island has so much more to offer! In today's article, we rent a car and explore the island of Shikoku. Get in and buckle up: an incredible journey is about to begin.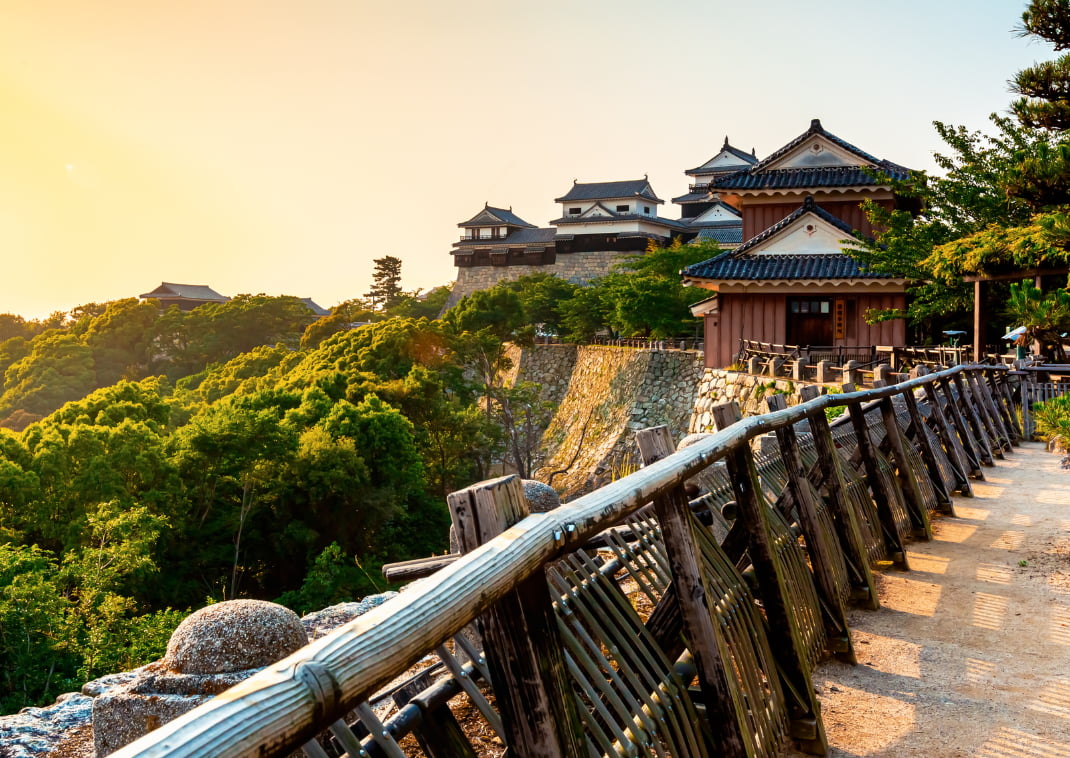 Pictured: Matsuyama Castle
Renting a Car in Japan
With the growing number of foreign tourists coming to Japan these past years – pre-covid times –, a lot of tourism-related industries made crucial efforts to adapt to English-speaking clients: car rental is one of them! Most big brands will have an English website where you can easily fill out forms to rent a car along with clear explanations on what to expect.
What do you need, you might ask? An international driver's license or a translation if your country has a partnership with Japan, to be 18 years old or more, your passport, and voilà! Once you have your clear travel plan laid out, you can choose and book a car online, only to pick it up on-site and listen to instructions before taking the road. Prices start around ¥5,000 for a small car for 24 hours, you will have to add insurance, petrol, and tolls to your budget.
It's not always recommended to travel by car in Japan: roads in big cities will easily get jammed on weekends or holidays, tolls will be heavy on your budget and let's not forget the obvious: you will drive in a country with rules you might not be familiar with.
Our advice would be to pick the car option for secluded locations where public transportation is not developed enough or if you want to experience the country by yourself! Avoid Tokyo, Kyoto, or any similar cities as they are well equipped with subway or buses as it would be a burden more than anything else.
Shikoku, an Island of Nature and Culture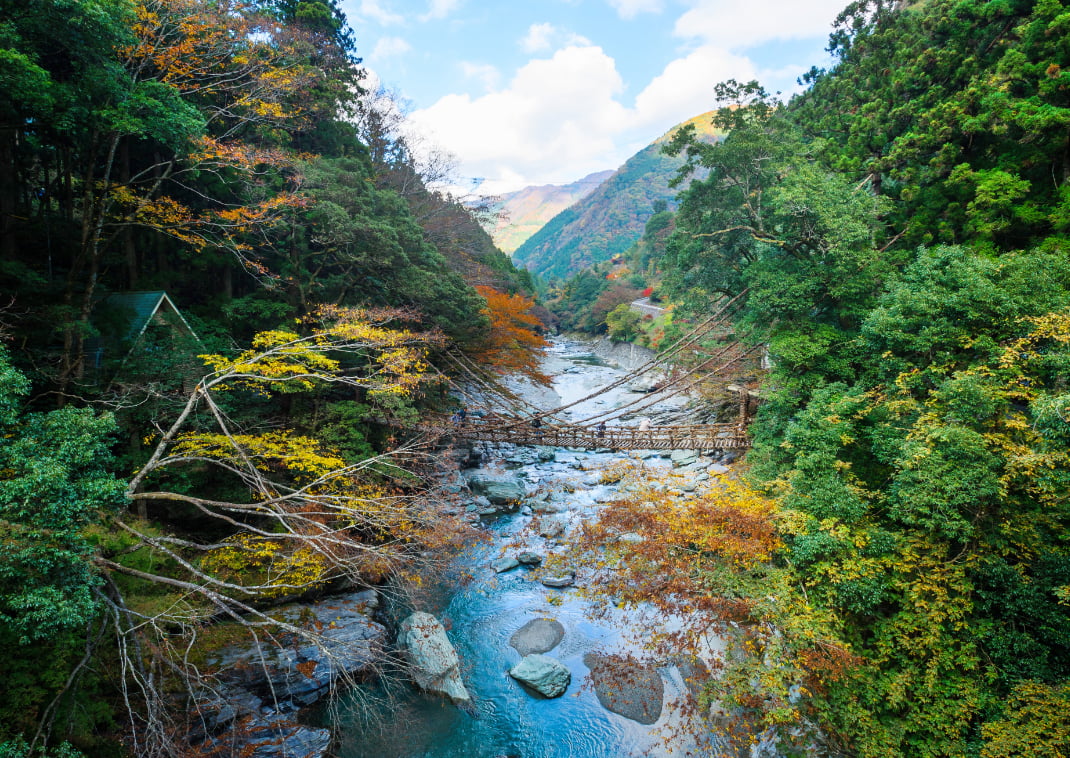 Pictured: Kazurabashi bridge, Tokushima
The second smallest-main island of Japan, Shikoku, is only 225 kilometres long and between 50 and 150 kilometres wide. You can find four prefectures on Shikoku: Tokushima, Kagawa, Ehime, and Kōchi. The island itself is accessible by train, ferry, car, or plane – plenty of options!
Why go there? The nature! Shikoku is filled with dreamy blue seas, relaxing forests, and calm mountains. There is a deep history in the land, links to unique gastronomy, cultural events, and incredible temples and sanctuaries – did you know that according to the legend, Japan was created in Kyushu?! Read on to discover some of our recommendations for touring Shikoku by car.
Ehime Prefecture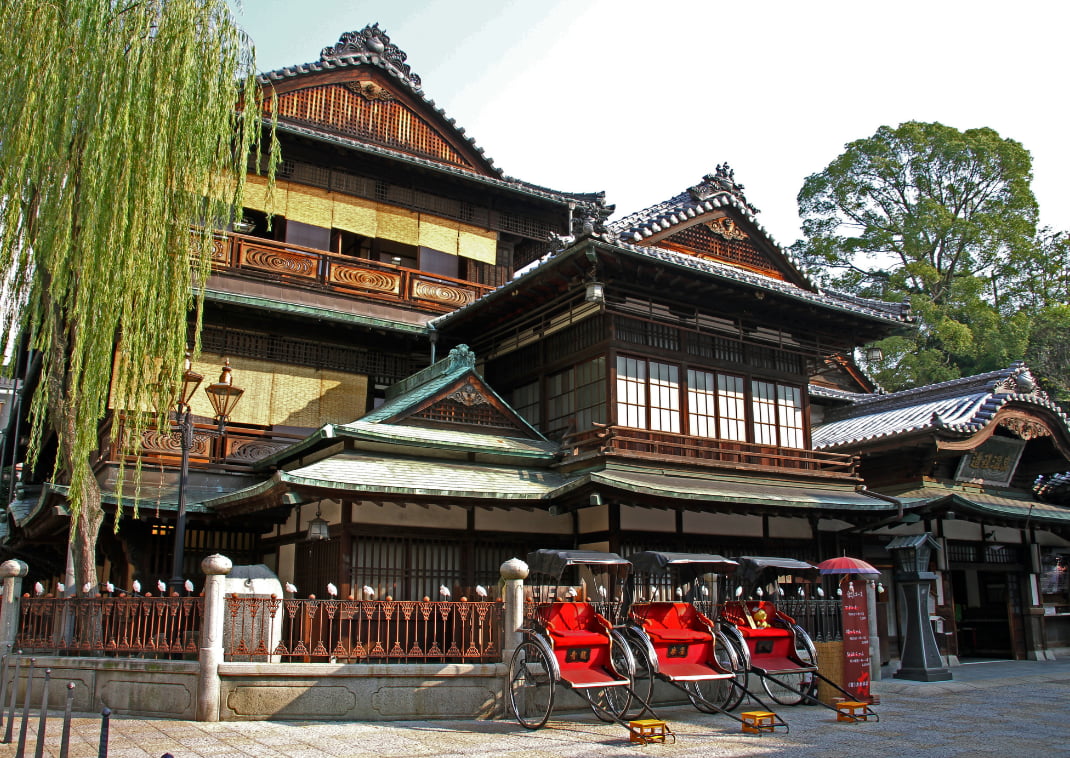 Pictured: Dogo Onsen, Matsuyama
Start your journey in Ehime Prefecture's biggest city, located at the north of Shikoku: Matsuyama.
Inside Matsuyama city, you will find Dogo Onsen. This public hot spring complex is one of the oldest resorts in Japan, with more than 1,300 years of history! The place is also well-known for being the inspiration to Hayao Miyazaki when creating the impressive hot spring building in Spirited Away. The building itself is worth the view but do try the baths! For a modest fee, you will dive into the many layers of hot springs that Dogo Onsen has to offer.
Inside the city, don't miss the Botchan Ressha steam train, Botchan Karakuri clock (Botchan is a highly recommended Natsume Soseki novel set in Matsuyama!), Matsuyama castle, and the covered shopping alley between Dogo Onsen and the train station. A perfect city stroll before diving into a more rural Shikoku…
Kōchi Prefecture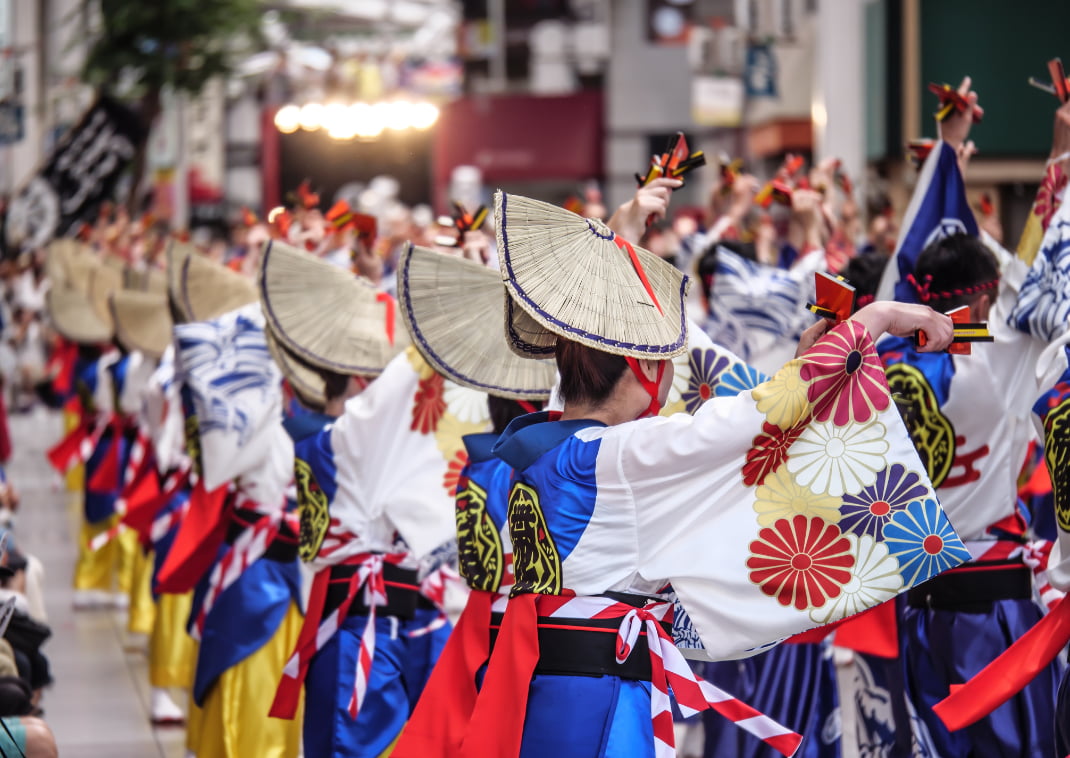 Pictured: Yosakoi Festival, Kochi Prefecture
Kōchi is famous for two things: its picture-perfect views and Yosakoi, a very energetic traditional dance. We love many more things about Kōchi, including their mouth-watering katsuo and udon but let's get to our recommendation right away: a night at Cape Ashizuri, at the southwest of the island.
Many ryokan (traditional hotels) will offer sea-view rooms or lodgings in the area, local dishes or ingredients as well a real night of rest, far from anything urban or stressful. Try getting individual lodging in a resort, offering natural hot springs – of course – and a traditional and local meal.
There are quite a few resorts located on Cape Ashizuri, each coming with its perks so take your time booking your dreamy night in Kōchi Prefecture – and ask us if needed!
Tokushima Prefecture
Tokushima Prefecture is home to a mesmerizing natural phenomenon: Naruto whirlpools. You will have to drive up to the east side of the island to witness whirlpools and approach them by boat if you dare. Famous for its Naruto vortexes as well as the perfect beaches and beautiful nature surrounding them, the area is reputed for its holiday resorts, offering sea-view rooms and restaurants of course.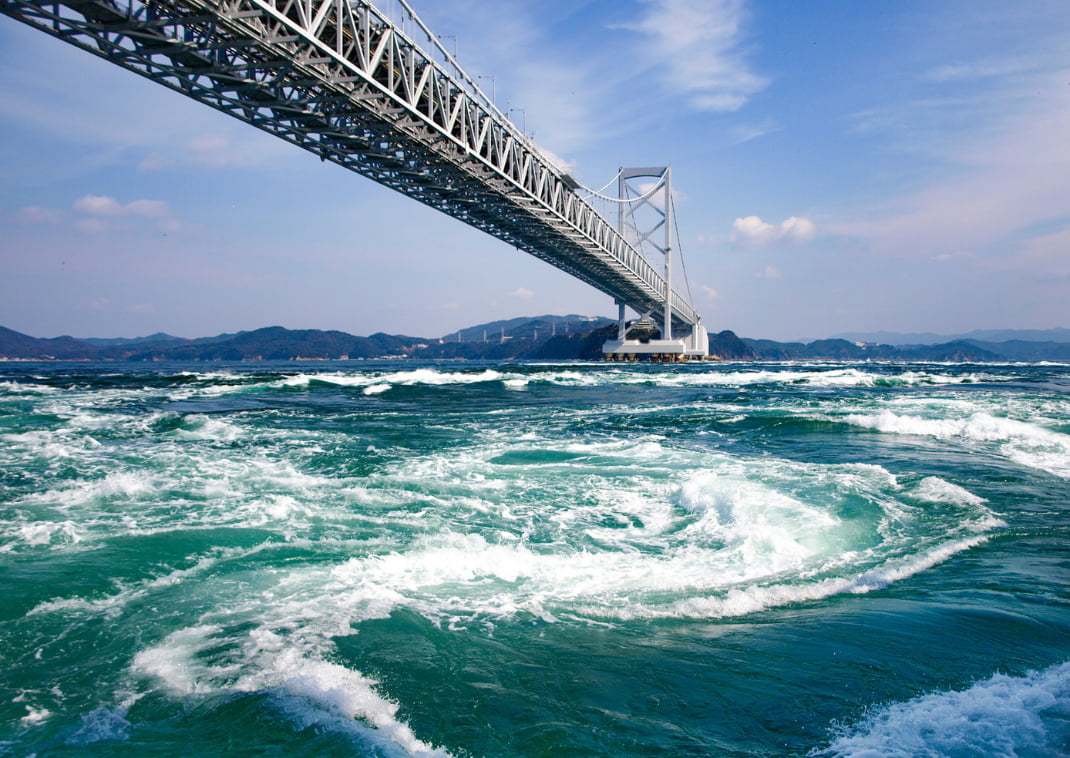 Pictured: The world largest whirling waves in Naruto Channel
On your way from Kōchi to Naruto, you can explore the Iya Valley. Only accessible by road, the valley is historically known as a refuge place during the clan wars since it is that hard to enter it. Every part of this valley is worth the visit but you can pick one for the sightseeing you would like to see: from a Manneken-Pis peeing from the edge of a cliff to centuries-old vine bridges or a human-sized dolls village. You will drive a lot, on narrow roads, but the trip is sightseeing in itself.
Kagawa Prefecture
Do you like dots? Unless you have been living under a rock you must have heard of Yayoi Kusama and her now classical dots art creations. One of her most famous pieces, a giant yellow pumpkin, is exhibited in Kagawa Prefecture, in Naoshima. Naoshima is a little island, between Shikoku and Honshu, and home to a year-round outside art exhibition. Several modern art museums can be found all over the island and its Setouchi Triennale is well-known all over the world.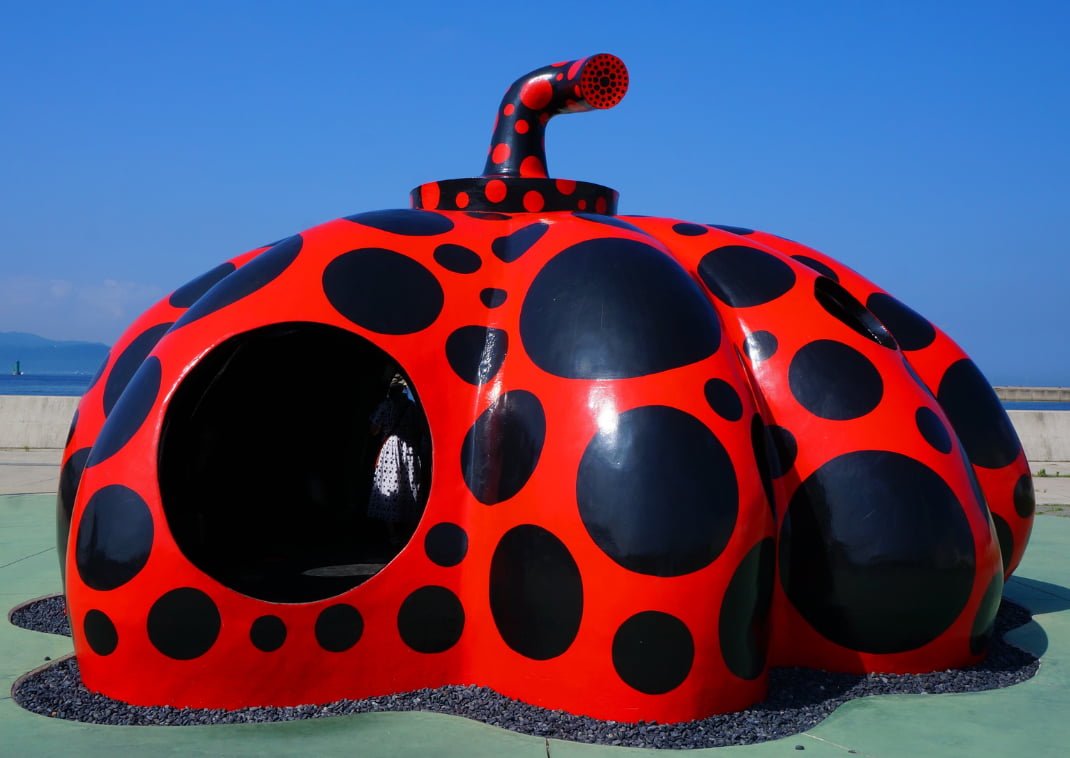 Pictured: Pumpkin statue at Naoshima island
More onto history? Head over to Takamatsu, the head city of the Prefecture to wander in the Ritsurin-Kōen. This garden is considered one of the prettiest in Japan and carries over a long history, rooted in the 17th century. It is huge – we're not kidding – and divided into several sections, each with its thematic and a large variety of plants and flowers.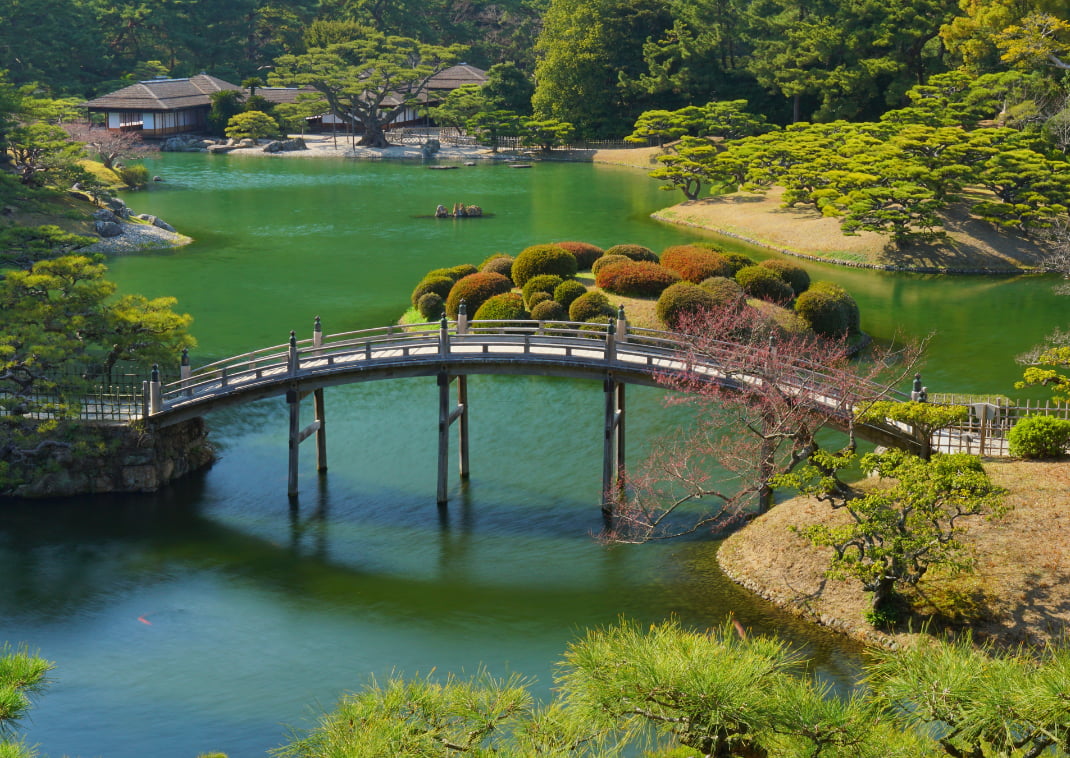 Pictured: Risturin Garden
Some Advice
The trip can be covered in 4 days if you don't mind driving a lot, but we would recommend you to make it a week-long so you can stop and wander all you want. You will enjoy almost desertic roads, whimsical forests, dreamy beaches, and delicious local delicacies. Shikoku people are also described as awfully nice and welcoming, which should help you decide that you definitely need to book your plane ticket to Shikoku right now!
Another option is to follow the Shikoku Pilgrimage circuit – you can do it by car, it's not forbidden! – and try to upgrade this journey to a spiritual trip. If your basecamp is in the Kansai area, the island is also accessible by shinkansen and you could tour the main sightseeing locations by taking the train.
Shikoku is offering many possibilities when it comes to traveling and choosing to do it by car is only opening them even more. If you would like some help when crafting this trip, don't hesitate to ask one of our consultants!
They will give you hints and help you set a practical but still magical trip throughout Shikoku – and even assist regarding the rental. You can also have a look at our Tokyo, Kyoto and Shikoku car tour – including an itinerary to guide you.
Plan your trip with us
Get in touch with one of our travel consultants, they are ready to help you create the trip you always dreamed of.
Online Consultation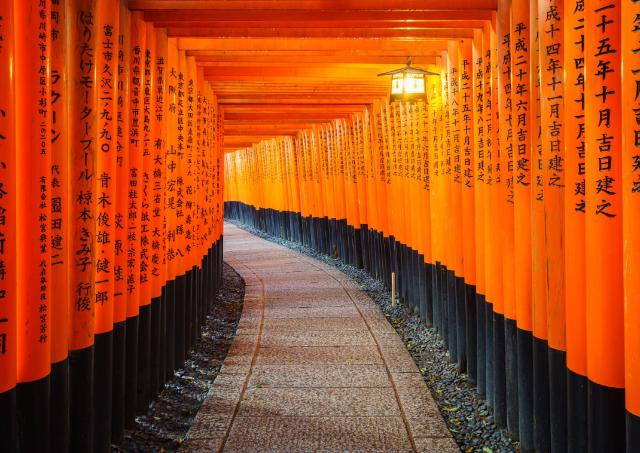 We use cookies on this site to enhance your user experience. By continuing to use this website, you consent to the use of cookies in accordance with our
Cookie Policy.